When we build your training plan, we base it on the individual athlete.
Raven Run Club is for everyone. If you have a running goal, this is YOUR group! Our adult program offers free training groups and individualized training plans (membership fee). Our coaches will meet with you to learn more about your goals and needs, answer questions, and share feedback. They will then make recommendations for what program might work best for you.
Sessions:
Tuesdays @ 6p, Saturdays @ 10a
Locations:
On Tuesdays from March-October, we meet outdoors. Saturday Long runs are always outdoors. Locations vary between Park Strip, Pt Woronzof, Central Track, & Westchester Lagoon. October-February, Tuesday sessions meet in The Dome.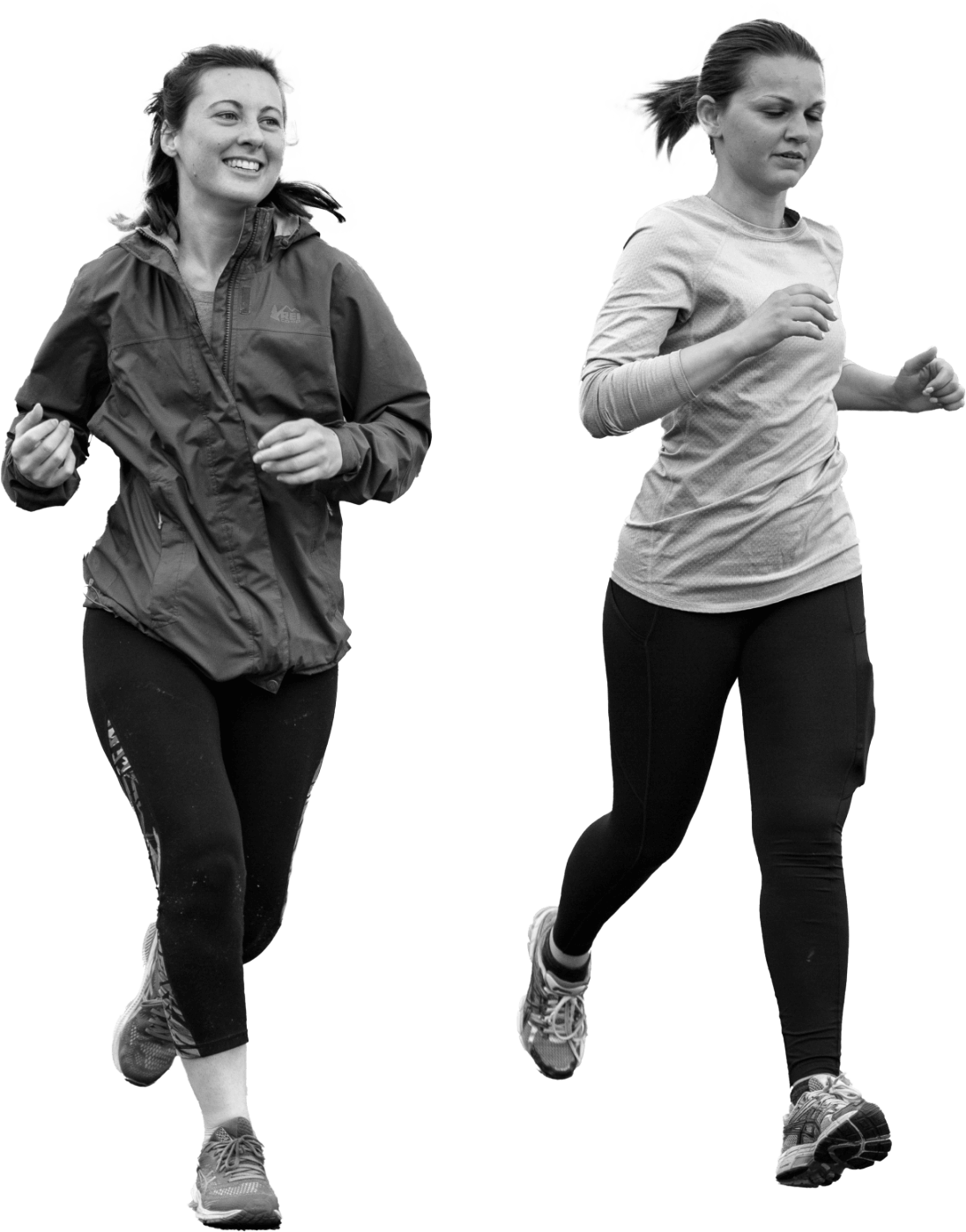 RRC Group is an all-abilities training group. Tuesday night workouts focus on strength, tempo and speedwork. Practices last 75-90 minutes.
Weekday Workouts: When you arrive at practice, take a couple laps to warm up and get your blood pumping! After the majority of the group has arrived, yourcoaches will circle you up for stretching, dynamic drills and to explain the workout. Working on your fitness or ready to level up? Your coaches will help you identify what your effort should feel like, and how to challenge yourself safely.
Saturday Long Runs: Long runs are focused on getting you comfortable being on your legs and feet longer. "Long" is defined by your ability levels, and you can take any variation of run or walk.
From walking to competitive running, RRC group is for athletes interested in building community and camaraderie through physical activity! In addition to access to experienced and professional coaches, find accountability through connection with new friends and peers. Learn how to pace and grow your physical ability with other like-minded athletes. Find structure and be challenged in a safe environment.
While the group is free, registration is still required! Sign up through the link on our RunSignUp page. This is a rolling "membership" and you can renew each month to continue to access practice information.
Personalized training plans, delivered virtually. Created by local, expert coaches and customized to your current fitness and future goals. Plans are adjusted weekly by coaches and shared using the TrainingPeaks app.
Any athlete can benefit from a customized training plan. If you are chasing a big goal, ready to level up, or need to incorporate training into a busy life, this may be the training program for you.
A complete customized training plan that works for your fitness, at your levels. Your training begins with an assessment from one of our Raven Run Club coaches. They'll get to know your current training, your goals, your history and any injuries or physical needs we should be considerate of. Your coach will write your training plans weekly and update you through the TrainingPeaks app. Expect regular check-ins, via email phone or FaceTime. Need adjustments? They will be made, and you will see them reflected on your training plan. Coaches will get to know you on a more personal level to help you, and challenge you to achieve your goals.
$140 | $175 with Individualized Training Plan
Sessions:
12 Weeks: April 26 - July 16
Training Times:
Wednesday Running Workout @ 6pm 
Saturday Long Run @ 10am
Group meeting location:
Training Locations vary. Weekday workout rotates between Park Strip, Westchester Lagoon, & Central Middle School track. Saturdays long runs start from different trails & paths. 
Do you want to join fellow ladies training for the Skinny Raven Half Marathon & 10k? Runners and walkers of all abilities are welcome. No matter what your goals are, you will be guided to success by Skinny Raven's expert coaches.
3 Exclusive Clinics hosted at Skinny Raven Downtown (dates TBD)
Exclusive product
Training fuel & hydration samples pack
Brooks Training group top
Weekday workouts: Practice typically starts with you running a few warm up laps. We regroup for range of motion stretching, drills and strides. There are a few minutes to go to bathroom and take layers off and then we explain the workout before getting started. After the workout, we cool down and regroup for strength work and stretching as time allows. Sessions last about 75 minutes.


Saturday Long Runs: Long runs start from Skinny Raven downtown. We will post a route map and go based off minutes instead of miles. *New runners: Our goal is to get you used to moving on your feet for a longer duration. We don't expect you to run the whole time if you are at a beginner level. Work on building up the run/walk ratio. Beginners will start with 30-45 minutes and work up from there. More experienced runners will start with an hour and build up.
What if I can't run long? What if I can't do the whole workout?
We get it! Everyone starts off not being able to run for long periods of time. Talk to the coaches and we will adjust workouts and help guide you with training options.
Head Coach
Coach Hallidie began running in high school and decided to run at the collegiate level for UAA, where she concluded a successful career as a member of both the cross country and track and field teams. She appeared at NCAA Nationals five times, received three All-Region honors, and was awarded three All-Conference accolades.

Upon finishing her collegiate eligibility, she then began volunteer assistant coaching at UAA during the 2012-2013 academic year. She has been coaching for over ten years with Skinny Raven Sports Kids Running, the Her Tern/Hightail training group, Raven Run Club, and Intro to Run. She has also volunteer coached at Special Olympics Alaska and worked on other private coaching opportunities. She took over RRC as the head coach in 2016 and has been certified by Road Runners Club of America as a Level 2 coach. Her goals for this group include "providing development opportunities that enhance knowledge, develop skills, and enrich the organization." Helping people live healthy lives is a passion of hers and she hopes to share running with people of all ability levels.
Coach Grace began running her junior year of high school and fell in love with it. Following senior year, Grace committed to run at UAA. Her career was not as successful as she had hoped, as she spent the majority of her eligibility injured. From stress fractures to strained muscles, Grace's body was not prepared or able to handle the training load of college. While running for UAA, the cross country team won regions and made it to Nationals where they placed 6th.

In track, Grace narrowly missed qualifying for Nationals again in the 3000m steeplechase. After leaving the team in May of 2019, she wasn't sure how her body would handle running if there was no pressure for her to perform. She had to teach herself to love it again. When Hallidie asked Grace to coach when Michelle went on maternity leave, she was nervous. She had never coached before and had really only been running for four years. When she started coaching her first RRC group this last fall, she struggled to explain workouts and wasn't sure if she could ever get to a place where she would feel comfortable leading a group. As an introvert, coaching practically threw her out of her comfort zone. Today, she feels so much better about her place in the group. She loves getting to see everyone each week and talk about life and running. Raven Run Club has forced her to explain things in ways that she never would and see different angles of running then she was used to. Grace has learned so much from each of the RRC participants and is grateful for that opportunity. She hopes this group not only sparks a love (or at least a fond interest) for running but that participants each develop a new level of confidence as they tune in to all that their body is capable of. Grace is excited to keep learning with you in the weeks, months, and maybe years to come!
Coach Jennifer (Jen) is new to the Raven Run Club but not with coaching. She's an experienced coach since 2018 where she's coached running and water running groups for multiple adult training teams. She currently is the head coach for a women's running team as well as an assistant coach with one of the local high school cross country running teams. Jen also trains individual runners to help them accomplish their running goals. She is a Level II certified running coach with both the Road Runner's Club of America and has an accreditation with the National Federation of High School Sports.
Jen has had a love for running since the age of 12. She competed on the Bartlett High School cross country running and track teams in Anchorage and briefly on the Pineville High School running teams in Louisiana where she won the State Cross Country Championship title her sophomore year. Jen enjoys running in various races, from 5K to 13.1 miles every year during the short Alaska running season. She particularly likes to push the envelope and run as fast as she can in her favorite 5K races. Her favorite runs are out on the trails exploring and having fun with her family. When she's not running, Jen is a team member at Skinny Raven Sports and for fun serves as a Logistics Officer in the U.S. Air Force Reserve.
After cheating in her first school mile at 9 years old because she hated running, Ilana gave it another go by joining track in the 8th grade and quickly fell in love with the sport. She continued running track and cross country all the way through college at the D1 level at the University of Delaware, where she had a successful and very fun few years as a miler before a femoral stress fracture interrupted her last year and a half. After graduating, she was burnt out on the sport as almost 10 years of long miles and year-round competition had taken a toll on her body, and she decided to take a break from running to work and travel around the US until she moved to Alaska. Here she once again found a new appreciation for the sport by mountain running with friends and entering occasional races for fun instead of tough competition.
Coach Ilana is excited to share all she has learned through these phases of running as a coach - everything from helping others who are starting where she did (unable to run a mile straight) to higher-level competition to just finding the love in running and seeing what your body is capable of. She hopes to help others accomplish their goals and find confidence in themselves through running that they can take into all aspects of their lives.